Warsop's Meden Sports Centre closure 'is temporary'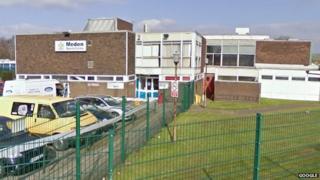 A sports centre which shut without warning will not close permanently, Mansfield District Council promised.
Meden Sports Centre, in Warsop, Nottinghamshire, closed on Friday because of fire safety concerns following a routine inspection.
Regular users fear the council wants to use the problem as an excuse to shut down the facility permanently.
But Councillor Philip Shields said that was not the plan and the council was investing in the centre.
'Temporary closure is subterfuge'
Edwin Tattersall, a regular swimmer, said the council had been deliberately neglecting the building for the last 20 years because it was not interested in the facility.
"We believe in Warsop that this temporary closure is a subterfuge to close it completely," he said.
"I believe... if we don't protest now then they will actually close it and that's what they have been wanting to do for at least four or five years."
Mr Shields said he agreed the building had been neglected but said the council is now investing in its future.
'Temporary measure'
He said the problem was uncovered during checks on Friday ahead of a tender process for work on the centre.
"There are no plans from Mansfield District Council to close the facility permanently. This is a temporary measure.
"As a result of planned ongoing repair and maintenance, urgent work relating to the fire resistance of the building had been identified."
He said it was impossible to say how long the building will remain shut until what work needs doing is identified.