Nottingham tram prompts residents parking permit call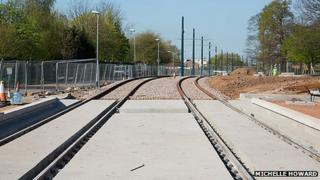 Residents near a new tram terminus in Nottinghamshire have said they fear parking chaos after officials decided not to set up a parking permit scheme.
Plans for restrictions on streets in Chilwell have been shelved by the county council.
Some living nearby said they now feared the roads would become a "free park and ride" and have started a petition.
But the council said experience had shown drivers preferred secure parking and the situation would be monitored.
The £570m extension to Nottingham's tram network is due to open in early 2015.
'Right balance'
Carol King, who lives on Cator Lane North and has organised the petition, said: "Most days we have cars parked, half a dozen or so using it as a free park and ride.
"I've even had people parked on my drive because there was no space left on the road."
Richard Jackson, the Conservative county councillor for Chilwell and Toton, said: "I think common sense says [a permit scheme] is necessary. No doubt about it, it is going to cause additional parking, you can look at other tram lines and see that."
Traffic manager at the county council Peter Goode said a permit scheme should only be used where absolutely necessary.
"Any restriction that is brought in will have an impact on the existing parking, including that of the residents.
"I think there is a myth that residents parking is an answer to all problems but there is always a downside. We have to get the right balance," he said.