Nottingham car team in 250 July bad behaviour calls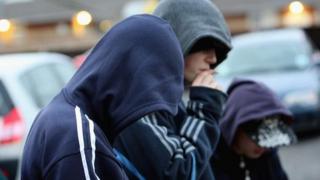 Two "night cars" introduced to deal with anti-social behaviour in Nottingham were called out about 60 times each weekend in the first month.
Community Protection, a police and city council partnership, started the scheme in July to run between Friday nights and Monday mornings.
Nottinghamshire Police said the numbers were expected, but has seen a "slow decrease" in August as a result.
It said the service was introduced in response to a rise in complaints.
'Dedicated resource'
The project aims to tackle anti-social behaviour such as nuisance noise, criminal damage, vandalism and graffiti.
Each patrol car attended about 10 complaints each night over four weekends last month, totalling nearly 250 callouts.
Temporary Ch Insp Mark Stanley said the complaints were "probably the numbers we were expecting, hence we had a number of resources to deal with that demand".
"We have now seen a slow decrease through the period of August," he said.
Mr Stanley added that the force received an increase of 20% of anti-social behaviour calls prior to the initiative being introduced.
Officials said the project offered the right level of response to complaints and reassured residents.
It said by diffusing problems at an early stage, repeat complaints might be avoided.
The team added that it would now monitor when in the year the cars are being called out more frequently to tackle the problem.
Similar projects have so far taken place in Leicestershire and West Yorkshire.