Clifton's abandoned British Gas scheme restarted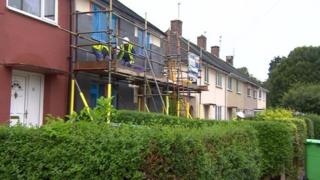 A £20m home insulation scheme which was controversially cancelled in Nottingham has restarted.
Changes to the Energy Companies Obligation led to British Gas pulling funding towards a scheme which would have insulated hundreds of houses.
Nottingham South MP Lilian Greenwood said she was delighted it was going ahead after months of campaigning.
British Gas said the decision followed extensive talks with the housing association Nottingham City Homes.
About 2,000 people living in council-owned and privately-owned homes in Clifton signed up to the scheme only to be disappointed in January when British Gas announced it could no longer afford to provide funding.
---
Energy Companies Obligation
Introduced in January 2013
Aims to reduce energy consumption and support people in fuel poverty
Funds improvements worth £1.3bn
Provides subsidised insulation to families in "areas of low income" and for households on some benefits
---
It prompted questions in the House of Commons but Ms Greenwood said £5.5m in funding has been secured from the Department of Energy and Climate Change and work has restarted.
It involves adding external cladding to solid-wall homes with at least 950 properties set to benefit.
In a statement British Gas said: "Following ongoing discussions with Nottingham City Homes, we are very pleased to provide Energy Companies Obligation funding that will help transform at least 950 properties with new insulation measures in Nottingham."
Ms Greenwood, a Labour MP, said: "It has been something of a rollercoaster. People were really excited when we launched last September. Everything was going full steam ahead and then the government had some panic changes to the Energy Company Obligations which put our whole scheme under threat.
"But we've worked really hard with Nottingham City Homes and the city council, we've pestered ministers, we've met British Gas, we had a debate in the House of Commons and finally we've managed to get the scheme back up and running."
Eligible residents will be written to and invited to apply for the scheme.