East Midlands sees a drop in A* to C GCSE grades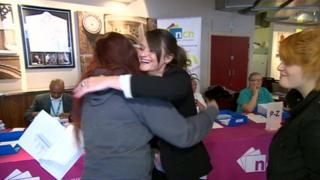 The East Midlands is the only area in England, Wales and Northern Ireland to see a fall in pupils obtaining A* to C GCSEs.
While grades nationally had improved, pupils in Derbyshire, Leicestershire and Nottinghamshire, fell behind with a 0.2% drop on last year.
A fall in English grades has also been blamed on an exam system overhaul.
Ian Toone, of education professionals' union, Voice, said the figures were "misleading" and only a "small dip".
The number of pupils achieving A* to C grades has fallen from 19.2% in 2013 to 18.7% this year, according to figures released by the Joint Council for Qualifications.
'Part of rebalancing'
"It is very misleading because it only represents a change from last year," said Mr Toone.
"It doesn't mean that the East Midlands aren't doing as well as other regions.
"And actually we are the victims of our own success in a way because last year the East Midlands improved by 9.7%.
"It was always going to be difficult to sustain that level of improvement so a very small dip of 0.2% is really just part of the rebalancing."
Sam Webster, executive assistant for schools at Nottingham City Council said they were pleased with the overall results at all city schools.
However, he said there was still more work to be done at those which had been placed in special measures by Ofsted inspectors.
He said: "We are on a journey of improvement and none of us in Nottingham, be it schools, teachers or people at the council, will rest until each and every one of our schools are good and better."