Nottinghamshire Wildlife Trust appeals for otter spotters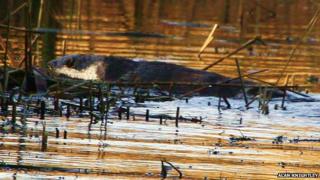 A wildlife group has appealed to the public to help find evidence of otters breeding in Nottinghamshire's rivers.
Nottinghamshire Wildlife Trust said it could prove to be a "record year" for sightings with the animals being spotted in areas not recorded before.
However, the trust said proof the animals have been raising young would be an important milestone.
Otters were on the verge of extinction in England but numbers have increased since they became protected by law.
The animals have been seen at locations along the River Trent, River Meden and River Idle.
A number of sites have also had frequent reports which suggests the animals are not just passing through and could be breeding.
Spotting otters
The non-native mink are often mistaken for British otters
Otters are much larger with a stronger frame, paler fur and a broader snout and chest
They depend on rivers and learn to swim at just 10 weeks old
They have dense fur and close their ears and nose to swim underwater
Michael Walker, from the Trust, said: "We've had otters back in the county for around 15 years now and, as they are regularly recorded in a number of parts of Nottinghamshire, we suspect that they have been breeding.
"However, until we see a family group together, or someone photographs a mother with cubs, we won't know for definite."
The trust said returning otter populations could help push out the non-native American mink which has been decimating water vole populations.
Otters almost became extinct in England in the late 1970s due to a combination of hunting, polluted waterways and dangerous pesticides.
Otters are now protected by law and are steadily increasing in numbers across England.