Nottinghamshire railway death woman 'distracted'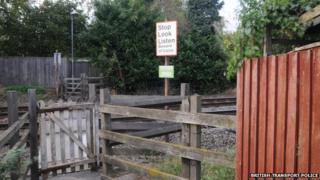 An elderly woman killed crossing a Nottinghamshire railway was likely to have been distracted by another train.
The pedestrian was struck by a train at Barratt's Lane No.2 footpath crossing, in Attenborough, last October.
The Rail Accident Investigation Branch (RAIB) report stated that the woman decided to cross after the train on her left had stopped, but "did not notice" the train on her right approaching.
The crossing closed after the accident and a new diversion has opened.
The RAIB said a London to Nottingham train had stopped at a signal near to the crossing, on the woman's left, before she opened the gates.
At the same time, a Nottingham to Birmingham train travelling at 66.4mph (106.2 km/h) was approaching from the right.
Evidence revealed that the horn from the Birmingham train was sounded when it was 40m or 1.4 seconds from the crossing.
The report stated that CCTV footage showed that the woman, who lived locally and was a regular user of the crossing, did not turn and look towards this train until the train was almost at the crossing.
The RAIB said: "It is likely that the pedestrian had concentrated her attention on the London train and did not notice the train approaching from the Nottingham direction."
It added that "sighting distances in both directions were adequate".
The RAIB identified one "learning point" related to the design of gates at the crossing, but made no recommendations.
Prior to the accident, Network Rail and Nottinghamshire County Council decided to close the crossing and divert the footpath because the "risk rating was relatively high" as it was frequently used each day.
However, although the crossing closed after the accident the diversion was set to be implemented during the Nottingham station re-signalling project.
The diversion, via Attenborough Lane level crossing, was completed in March.
In 2005, a pedestrian was hit by a train and killed at Barratt's Lane No.1 footpath crossing in foggy conditions.