Nottinghamshire councillor Ian Campbell resigns from Labour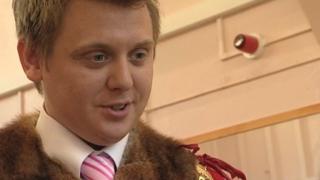 A councillor who became the youngest mayor in England has resigned from the Labour party leaving Nottinghamshire County Council in no overall control.
Ian Campbell, 27, is now an independent councillor and said he is prepared to vote against his former party.
The Labour group is still the largest party but it does not have a majority.
Leader of the council Alan Rhodes expressed disappointment but said in the event of a tied vote the chairman has a casting ballot.
Mr Campbell, who is a district as well as a county councillor, said he was resigning because County Hall was making cuts to bus services in the ward he represents, and it had "privatised the NHS drug and alcohol services".
He said: "I hold on to traditional Labour values. When I voted against the NHS issue I was disciplined, sent a written warning by the chief whip and removed from the economic development committee.
"I will vote against Labour if necessary. I will judge every issue on its merits."
He added that he had been elected after campaigning to save bus services in the north of the county and could not vote to cut them.
Labour now has 33 of 67 seats on the county council with the Conservatives the largest opposition party with 21.
In a statement, Mr Rhodes said: "Ian Campbell's decision is especially disappointing coming only months after he was elected as Labour district councillor for East Retford West and just over 12 months after being elected as a Labour county councillor."
But he added that in the event all the opposition councillors vote against the Labour group the chairman of the council, who is Labour, has the casting vote.