Nottingham hospital apology for cancer patient death 'failure'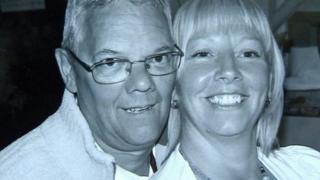 A hospital has apologised to the family of a man with cancer who was sent home despite showing signs of infection and died of pneumonia about an hour later.
Richard Sharp, 60, of Bilborough died in the arms of his wife Kim after being sent home from Nottingham City Hospital in March 2013.
Mrs Sharp said: "They took away my husband and they took away my life. How can I forgive them?"
A hospital spokesman has apologised and said changes had since been made.
'Lips went blue'
Mr Sharp, who had been diagnosed with lung cancer, was attending a pre-operative clinic at the hospital when symptoms of pneumonia were noticed but not acted on, according to a report compiled by the hospital.
He was discharged from the clinic and sent to his home in Bilborough where he collapsed in his wife's arms about an hour later he had left the hospital.
She called an ambulance but he was declared died.
"He just fell like a deadweight. He was dead. His lips went blue right away," Mrs Sharp said.
Mrs Sharp said she was considering legal action and could not afford a headstone for her husband's grave.
A letter sent to Mrs Sharp from Peter Homa, chief executive of the Nottingham University Hospitals Trust, said: "May I offer my most sincere condolences on the death of your husband and apologise unreservedly for the failures identified in the investigation report.
"I know that Mr Sharp had a number of abnormal observations and blood tests when he attended our pre-operative assessment clinic and these were not acted on.
"This resulted in him being sent home when he should have been admitted for urgent treatment."
Mr Homa said changes at pre-operative clinics "make clearer the roles and responsibilities of staff" who have been reminded of "the importance of escalating concerns as early as possible".