Richard Rovetto killed by friend in drunken fight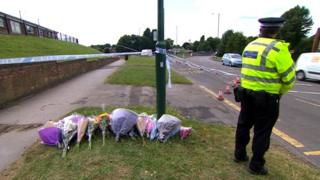 A man has pleaded guilty to causing the death of his friend during a drunken fight.
Richard Rovetto, 29, fell to the floor and hit his head after being punched by Scott Humphrey during an argument in the street.
The pair had been returning home after a night out on 27 July. Mr Rovetto, a father-of-one, died in hospital from his head injury.
Humphrey, 26, of Queens Bower Road, Bestwood Park, admitted manslaughter.
Ch Insp Rob Griffin, who led the investigation, said: "This is yet another example of where violence has devastated the lives of many.
"Richard Rovetto has lost his life, while Scott Humphrey faces time in prison for a mindless act of violence.
"Richard's son will have to grow up without his father and his family and friends have been left broken.
"Humphrey has to live with the guilt of having taken his friend's life as a result of a drunken argument."
Humphrey will be sentenced on 3 October.