Hucknall road work shops get compensation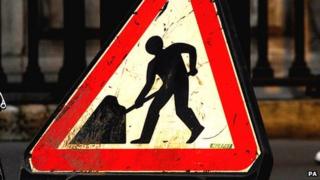 Shops in Nottingham which have seen custom drop during £2.8m road works have received a £500 payment from the company responsible.
Annesley Road in Hucknall has seen weeks of disruption as Western Power Distribution lays new electric cables.
While some businesses have welcomed the move, others have said it does not cover their losses.
The power company said the work was essential and was being done in stages to minimise problems.
'It's been hell'
Andy Cunnington, who owns a butchers in the middle of the street, said: "Yes we have had the £500 but if you put that against what we have lost, it is nothing.
"During the last three weeks we are at least 40% down, which is a lot more than £500.
"It's been hell. We have had no passing trade whatsoever and we just didn't know anything about it so we couldn't warn our customers."
Tim Gudgeon, of Dayus Furnishers, estimates his trade has been halved but still praised the company.
"Western Power have been happy to talk to us and they have been positive in everything they do.
"I was expecting everything to be a hard slog but they have been good so far," he said.
Western Power Distribution said the project had been planned in liaison with the county council and would secure the area's power supply.
Work will continue until 25 September.