Hama Faraj Noori murder: Two Nottingham men found guilty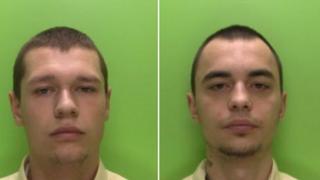 Two men who strangled an Iraqi refugee to death at his Nottingham home have been found guilty of murder.
Patryk Karol Srutkowski, 22 and Pawel Bugajski, also 22, used a belt to strangle and kill 56-year-old Hama Faraj Noori.
Both men denied murder but were both found guilty after a trial at Nottingham Crown Court.
Mr Noori, an Iraqi Kurd, was found dead at Uppingham Gardens in the city, on 25 January.
He was killed after a night of drinking with Srutkowski and Bugajski, Nottinghamshire Police said.
Mr Noori also suffered several broken ribs, a broken nose, and signs of blunt force trauma to his face and head.
Bugajski of Woolmer Road, the Meadows and Srutkowski, of Alfreton Road, Radford, will be sentenced on Wednesday.
Nottinghamshire Police spokesman DCI Rob Griffin said: "These two men had been invited round to Mr Noori's that evening to have a drink with him.
"He was no doubt looking forward to their company. What they actually did to him that evening can only be described as abhorrent.
"Nothing can bring Mr Noori back but I just hope the conviction of these two thugs will help the family bring some closure to this whole ordeal and enable them to move on with their lives."