Gamston overgrown green space an 'eyesore'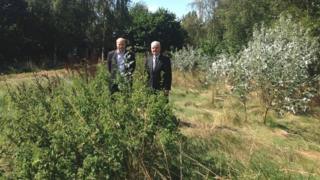 Residents in an area of Nottinghamshire say they are fed up, after a housing developer stopped maintaining an open green space near their homes.
The land in Gamston, near West Bridgford, is owned by Bovis but it is no longer obliged to look after it.
Locals said Rushcliffe Borough Council should step in to help the situation.
The authority said it hoped residents would help out with maintaining the community space. Bovis was not available for comment.
Lack of support
Resident Dave Butler said: "The grass is now two to three feet high and there's weeds and rubbish in there.
"It [the council] is not enforcing them to keep it clean and tidy, so Bovis just leaves it."
Barrie Cooper, Conservative councillor for Gamston, said: "Nothing has been done to keep this land up to a reasonable standard.
"In the meantime, the borough council has engaged into a programme to involve residents to look after parcels of land but there's been little support for this."
Mr Butler said: "We don't all have the time to get involved and there's a financial cost as well.
"If the local authority runs it, we all know where we stand."
Developers are responsible for the upkeep of open spaces for 15 years. After this time, it is usually adopted by the local council.
Neil Clarke, leader of Rushcliffe Borough Council, said because the housing development was not approved by them but the government, it was not its responsibility.
"We haven't budgeted for it because we don't own the land and we're not responsible for it," he said.
"We are trying to persuade Bovis to do something."