World War One march recreated in Newark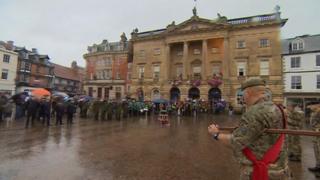 Rain failed to deter people on a 16 mile march in Nottinghamshire to mark the centenary of World War One.
In August 1914, after the outbreak of hostilities in Belgium, a rally was held in Newark Market Place by the new Sherwood Forest Regiment.
The men marched to Radcliffe-on-Trent before heading to the trenches.
Exactly 100 years later, Scouts, serving soldiers and members of the public followed in their footsteps in The Great March.
John Green, a retired soldier, joined the parade exactly 100 years after his father stood in the same spot.
"He was wounded three times and gassed and later in the war... won a Military Cross," he said.
"I'm very lucky to be here, we are all lucky to be here. If it wasn't for chaps like my father, many hundreds of thousands of them, we wouldn't be here at all."
Kevin Winter, who helped organise the event, said: "I think it is very important to remember [those who served]. Without their sacrifice we wouldn't be the country we are today.
"The First World War brought so many changes, not just on the warfare front but so many social changes as well."