Alcohol ban at Nottingham Caribbean carnival over safety fears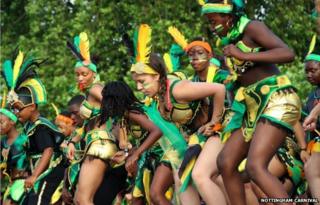 Alcohol has been banned from Nottingham's Caribbean Carnival this year after police raised concerns about safety.
The event, which usually attracts more than 10,000 people over two days, has also been reduced to one day.
Nottinghamshire Police and the fire service said inadequate safety plans had resulted in the council refusing permission for alcohol to be sold.
Organisers said they were disappointed but insisted the event would go ahead.
Plans for a £2 entry fee were scrapped this week following a threat of a boycott and the headline act, legendary reggae singer John Holt, was also dropped to keep costs down.
Organiser Richard Renwick said it was not what he and his colleagues wanted and denied it was because they failed to organise paperwork properly.
"Police said it was a low risk event but they went on to object to the alcohol licence on grounds of public safety and crime, which is a bit of a contradiction," he said.
"The carnival, in essence, will continue. The parade is still going to happen... the best we've had for years."
Mr Renwick said the entertainment at the Forest Recreation Ground, which comes after a parade from Nottingham Castle on Sunday 17 August, would be smaller than in previous years to "manage the risk" and no alcohol would be served.
In a statement Nottinghamshire Police said they had done "everything possible" with the fire service and city council to ensure the carnival went ahead.
The force said: "However, for this to happen the organisers must ensure their plans for the event ensure the safety of all who attend.
"The lack of adequate safety plans has resulted in the licensing panel not granting the sale of alcohol at the event."