Leighann Wightman murder: Victim risk 'underestimated'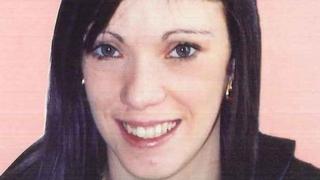 Agencies may have underestimated the risk posed to a woman later murdered by her partner, a report has found.
Leighann Wightman, 24, from Nottingham, was killed in 2011 by Andrew Kemp who was later jailed for 22 years.
The Domestic Homicide Review felt the various agencies involved should have communicated better and been less "optimistic" about Kemp's behaviour.
However, it said Ms Wightman, who had a young daughter, rejected offers of help.
The review said it was uncertain if she could have been kept safe, although officials accepted more could have been done to respond to the needs of the victim and her child.
Despite a number of attacks and a restraining order, the couple were in regular contact.
Kemp, who had a history of violence, repeatedly knifed Ms Wightman at her home in Norman Street, Netherfield, in October 2011.
'Over-optimistic'
The review, commissioned by South Nottinghamshire Community Safety Partnership, found "the significance of information held by agencies may have led to an under-estimation in respect of the level and imminence of risk to [Ms Wightman]".
It also felt that Kemp was a "deceitful individual and consequently agencies were at times over-optimistic when considering his openness".
Despite various agencies being involved it found "there were also opportunities that were not fully exploited where escalation and enforcement of sanctions may have been explored further".
The review made a number of recommendations to Nottinghamshire Police, Nottinghamshire Health Care NHS Trust, Nottinghamshire County Education, Victim Support, Nottinghamshire Probation Trust, Nottingham Community Housing Association and Nottinghamshire County Council Children's Social Care, mainly around staff training and inter-agency communication.
Supt Helen Chamberlain, head of public protection for Nottinghamshire Police, said: "There has been significant work undertaken since 2011 in relation to dealing with domestic abuse, repeat offenders and supporting victims.
"The force has done extensive training and is looking at new systems to ensure information, risk assessments, and management oversight is at its most efficient and effective."
Anthony May, corporate director for Children, Families and Cultural Services at Nottinghamshire County Council said: "The review notes examples of good social work practice, particularly once a Child Protection Plan was put in place in 2010.
"However, it also identifies that we could have done more to respond to the needs of the victim and her child, particularly during our early involvement with the family when we should have shared and acted on any emerging information about the family much sooner.
"This meant that on occasion, the risks were not fully recognised.
"We fully accept the report's findings and have already implemented the recommendations which have been addressed through changes we have made to training, improved record keeping and management oversight."