Homes near villages of Linby and Papplewick approved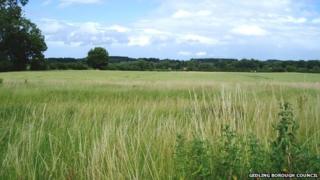 Plans for almost 300 new houses on farmland near Nottinghamshire's "best kept village" have been approved.
Gedling Borough Council voted in favour of the development near the villages of Linby and Papplewick, near Hucknall.
Campaigners against the plans said it had been referred to the Secretary of State to "scrutinise it further".
The authority said the site, north of Papplewick Lane, was part of its planning strategy which had been backed a government inspector.
The plans include a new primary school, provision for improved public transport, walking and cycling facilities, and areas of open space including an ecology park.
'Disappointed not surprised'
Local resident and campaigner Roberta Norris said: "We have, through the parish council, referred the plans to the Secretary of State to have a closer look at it and scrutinise it further.
"There are other issues about the impact on traffic where we feel has not had sufficient consideration.
"We'll be working with the developers about the significant impact it will have and try to minimise that if it goes ahead."
Ms Norris added she was "clearly disappointed, but not surprised" the proposals were given the go ahead.
The council said it needed to allow 7,250 homes before 2028 and some of those must go in the countryside.
Councillor Darrell Pulk, portfolio holder for leisure and development at the council, said: "The government planning inspector has also confirmed their support of our plans stating that they were sound and a suitable foundation for the planning of the area over the next 14 years."
Developers Co-operative Estates previously said it was responding to local need.
Last year, Linby won the Campaign to Protect Rural England's Best Kept Village award for Nottinghamshire.