Prize-winning 'Sister Mary' scarecrow stolen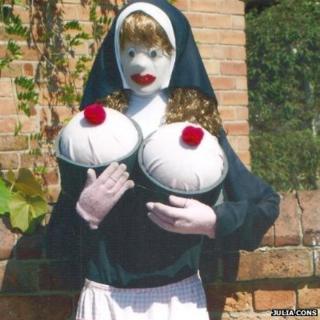 Cupcakes are being offered as a reward for the safe return of a stolen award-winning scarecrow of a nun.
The "Cupcake, Vicar?" scarecrow, or "Sister Mary", won second prize in the scarecrow contest held in Caythorpe, Nottinghamshire, on Saturday.
Creator Julia Cons said the scarecrow had attracted a lot of attention and "caused a great mirth" since the event.
She said Sister Mary had been last seen with her feet poking out of the back of a car.
It is believed the scarecrow was taken from outside Ms Cons' house on Monday night.
"She caused great mirth among unsuspecting passers-by who tended to stop and come back for a second look," said Ms Cons.
"I couldn't believe somebody has stolen her but I'm trying to keep some perspective on it.
"She's been a bit of entertainment in the village and they [the culprits] have spoilt that and ruined it for other people."
Call to 'nun-nappers'
Ms Cons said it was thought Sister Mary's feet were seen sticking out of the back of a grey car on Monday evening.
Her winner's rosette had been left behind on the front doorstep.
Ms Cons said they had tried to spread the word about the theft and urged the "nun-nappers" to return the scarecrow.
She said she was so desperate to have the scarecrow returned, she was offering cupcakes to anyone who could identify where she had been taken.
"I would like her back," she said.
"We are happy to ask no questions if she was to reappear in the empty space where she disappeared from."
Sister Mary came joint-second in the contest, along with a zombie scarecrow. She missed out on first prize to a witch stuck in a tree, accompanied with a sign saying "Don't drink and fly".