Nottingham parking levy could pay for more tram extensions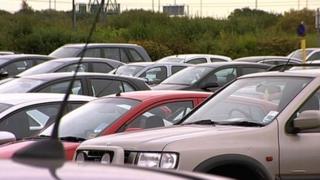 Nottingham could expand its tram network with funds from its workplace parking levy, the city's deputy leader has said.
The council's parking levy, introduced in 2012, raised £8.4m for the city in 2013-14.
But further government funding is not available until the existing lines are paid for, after an estimated 20 years.
Council deputy leader Graham Chapman said the workplace parking levy was "here to stay".
'No surprise'
"We've got to link up the city to the HS2 so that may require tram lines and HS2 needs to be linked up to the airport so there is that as well," he Chapman said.
He said the tram could be extended to East Midlands Airport in Leicestershire or to the proposed HS2 station in Toton.
Mr Chapman said tram lines to Bingham and Kimberley in Nottinghamshire and the Erewash area of Derbyshire were also on a list of possible destinations.
The city's parking levy is £334 per space annually, with the fee expected to rise to £362 next year.
The city council charged for a total of 25,300 spaces in 2013, which is a decrease of nearly 10% from the previous year.
Michael Spencer, managing director of Nottingham-based Tew Group, said he was not surprised to learn the levy would be permanent.
The firm, based in Lenton, has 40 parking spaces and passes on the approximate £13,500 costs to its staff.
"Unfortunately it's no great surprise to myself... we were originally told it was going to be used for the two extension," Mr Spencer said.
The levy was introduced to help pay for new tram lines, bus services and a refurbished railway station.