Nottingham Prison officer loses part of ear in bite attack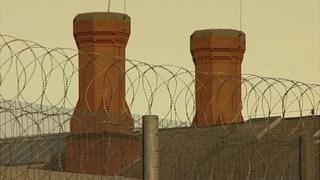 Part of a prison officer's ear has been bitten off in an attack at HMP Nottingham, the Ministry of Justice (MoJ) has confirmed.
The officer has since been discharged from Queen's Medical Centre but is still receiving treatment, police said.
They were called to the Category B prison on Perry Road at about 09:30 BST on Wednesday. Concerns about safety of staff at the jail were raised in April.
And a prisoner there reportedly tried to blind himself last week.
The MoJ said violence towards staff would result in "severe consequences".
A spokeswoman said: "We have referred this incident to the police and are helping them with their inquiries,"
"We always press for the most serious charges to be laid against anyone who is violent in prison."