Hundreds stop Nottingham eviction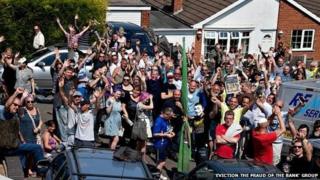 About 250 people turned out in support of a man who claims he has been wrongly threatened with eviction from his home in Nottinghamshire.
Tom Crawford, 63, from Carlton, is involved in a dispute with the Bradford & Bingley bank over his mortgage.
Bailiffs were due at Mr Crawford's property in Fearn Chase on Wednesday morning but did not arrive due to safety concerns.
Bradford & Bingley said it could not comment on individual cases.
'Fighting back'
Mr Crawford said he had paid off an endowment mortgage that he took out in 1988 but Bradford & Bingley have disputed this.
People from all over the UK heard of Mr Crawford's plight through a Facebook group.
Mr Crawford's daughter Amanda Pike appealed for supporters to be peaceful ahead of the protest.
About 250 people waited outside the house for bailiffs from UK Asset Resolutions Limited on Wednesday morning.
One supporter, who gave her name as Lisa, said: "This guy has been living in his house 26 years, as far as he's concerned he's been paying everything properly.
"They changed the rules on him, he's fighting back, and they say they're going to chuck him out of his house. How can that be right?"
UK Asset Resolutions Limited said it did not carry out the repossession on advice from Nottinghamshire Police.
A spokesman would not comment further.