Four suicides at 'crisis' prison HMP Ranby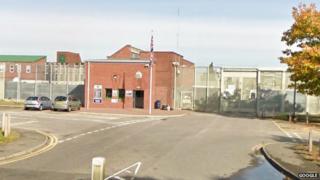 A jail in Nottinghamshire where four inmates killed themselves in less than a year has been described as a "prison in crisis" in a damning report.
HMP Ranby was found to be "unsafe" with high levels of violence, the HM Inspectorate of Prisons report said.
The situation at the jail near Worksop has "deteriorated significantly" since the last inspection in 2012, it said.
The jail's governor has taken "decisive action" over the concerns, the National Offender Management Service said.
"This report is troubling and we identified many problems within the prison," said HMIP, which made 106 recommendations.
'Getting worse'
It said that nearly half of Ranby's 1,088 inmates felt "unsafe" at some time.
The level of violence was "higher than expected" and there was evidence it was "getting worse" and that measures to reduce violence and intimidation were "ineffective".
Procedures to deal with self-harm were also "poor", the report said.
The death of 27-year-old Stephen Hannah, who killed himself in June 2013, was the first suicide at the prison in five years.
Seven days later, Louis Shaw, 23, who, like Hannah was serving time for burglary, was found hanged.
Following the unannounced inspection, which took place in March, two men who were serving life for murder also killed themselves: 40-year-old Carl Dowen in April and a month later, Terrence Litton, 43.
However, HMIP said in the report that it was "encouraged" by the new governor who "recognised the extent of the challenge faced at Ranby".
Michael Spurr, chief executive of the National Offender Management Service, said procedures to tackle violence, prosecute perpetrators and support vulnerable prisoners were now in place. He said work to tackle drugs and misuse of medication was also taking place.