Selfie sex text teens threatened with child sex charges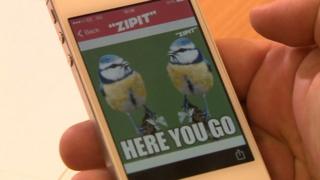 Young couples who send explicit pictures of each other are being threatened with prosecution under child sex laws.
Anyone under 18 "sexting" (texting sexually explicit pictures) could be committing an offence, despite 16 and 17-year-olds being legally old enough to have sex, police said.
One girl and her boyfriend were quizzed after she sent a photo of her breasts.
They were deemed to have distributed an indecent image of a child.
It came to the attention of police when the couple fell out and he sent the photo to his friends.
'Grave concerns'
Det Sgt Jan Rusdale, from Nottinghamshire Police's sexual exploitation investigation unit, said: "I've got children and I didn't know this was an offence until I joined this unit recently.
"If they are under 18 it is illegal, and over the age of 10 they can face prosecution.
"If there is a prosecution this can lead to a conviction which will then make that person eligible to register on the sex offenders register for at least two years."
However, she said the force tries not to criminalise children, and if the young people involved were similar ages they would try to offer them support, instead of arresting them.
The force has sent a warning letter to all schools in the county ahead of the school holidays.
In the letter, Det Insp Martin Hillier writes that he has "grave concerns over the amount of referrals Nottinghamshire Police are receiving on a daily basis".
He said naked images are being sent between teenagers via social networking sites, as well as by text and mobile phone apps.
In a ChildLine survey of 13-18 year olds, 60% said they had been asked for a sexual image or video of themselves.
Some 40% said they had created a sexual image or video of themselves, with about a quarter of all those questioned saying they had sent the image or video to someone else.
Over half of the young people surveyed by ChildLine said they had received a sexual photo or video.
Most received them from a partner but a third received them from a stranger.