Sherwood Forest Hospitals Trust: Head promises more progress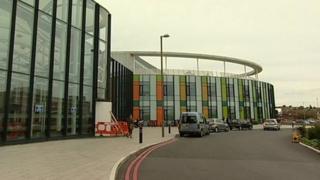 The head of a troubled Nottinghamshire NHS trust says he is confident it will come out of special measures despite an inspection that calls for more changes.
The Sherwood Forest Hospitals Trust has previously been criticised for high death rates.
A new Care Quality Commission (CQC) report said improvements had been made, but not enough.
Problem areas included not all drugs being properly secured and equipment that was not fit for purpose.
Keogh spotlight
Trust chief executive Paul O'Connor said: "We are obviously incredibly disappointed that our hospitals are to remain in special measures for a further six months, especially since the CQC acknowledges in their report that improvements had been made.
"It is important to remember that the reports… are based on visits which took place during April and May and we are confident that since that time even more progress has been made.
"Over the last year we have invested in more nurses and doctors, seen mortality rates fall to within the expected range and cleared a backlog of complaints."
The CQC report rated critical care, maternity and children and young people's services at the trust as "good".
The report called for improvements in staff training and appraisals, along with record-keeping on patient observations and hydration.
It also said more care had to be taken to ensure people were given medicines according to their prescription.
Mr O'Connor said: "We are not very good at our own record keeping and that is one thing that we recognise we need to improve."
Healthwatch Nottinghamshire chairman Joe Pidgeon said: "It is good to see that Sherwood Forest Hospitals have made some good progress… however, there is clearly still some work to do."
He said "Have Your Say" sessions staffed by volunteers would be held at King's Mill Hospital to ensure Healthwatch was given feedback about services.
The trust came under the spotlight in the Keogh Review of hospitals with the worst mortality rate.