Nottinghamshire PCC Paddy Tipping confirms police station closures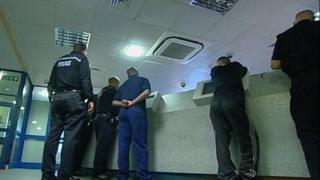 Four police stations and five front counters are set to close in Nottinghamshire in a bid to save £2.4m over the next three years.
The county's police and crime commissioner Paddy Tipping said stations in Arnold, Sneinton, Meadows and Carlton would shut.
He said the buildings were hardly used and expensive to run.
However, Gedling Borough Council leader John Clarke said closing Carlton station was a "waste of money".
He said: "We're trying to keep the building there and trying to keep it for multi-use.
"If it's going to close completely, it's not that old, it's such a waste of money."
Mr Tipping said it was a choice between "bobbies or buildings".
"If you've got a big expensive house you're not using you scale down to save money," he said.
However, Carlton police station will stay open until an alternative is found for its front counter services.
Counter services will close at Hucknall, Ollerton, Retford, Bulwell and St Ann's, but the stations themselves will still be used by police.
Eastwood police station has also been trialling a scheme for visitors to speak to staff at another station through a web cam.
This scheme could be rolled out to other stations if successful, Mr Tipping has said.
Mr Tipping denied the changes would affect frontline policing and said officers were often out on patrol ready to respond in an emergency.