Newark stroke victim in ambulance 'double delay'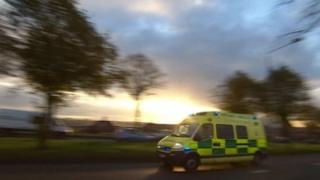 Ambulance bosses have apologised after a Nottinghamshire man, suffering from suspected strokes, faced a "traumatic" wait twice within a few weeks.
Jim Gillespie, 67, from Newark, had a history of strokes before being taken ill on 5 June and 4 July.
Although a paramedic and a GP attended, East Midlands Ambulance Service (EMAS) took two hours to respond each time.
EMAS said it was looking the circumstances of the calls to establish what caused the delays.
Mr Gillespie was left with cognitive problems after a major stroke in 2006 and suffered another minor episode in May of this year - when an ambulance arrived in 8 minutes.
Walk collapse
Elizabeth Gillespie was with her husband when he fell ill on 5 June.
She said: "I rang 999 just before 1pm and after a telephone assessment I was advised to ring 111 and contact my GP. She came out in 15 minutes and immediately called an ambulance.
"It arrived just before 3pm and it was confirmed as a mini-stroke.
"The second time he was walking with his carer when he collapsed. A paramedic came out but we then had to wait nearly two hours for the ambulance. That turned out to be low blood pressure.
"I feel disgusted. It was very traumatic, it was horrendous. The worst thing is seeing Jim. Because of his previous strokes he does not understand what is happening to him."
Fatal wait
EMAS Director of Operations and Deputy Chief Executive, Richard Henderson, apologised to the couple.
"It clearly is not good enough. We need to get this right, we need to make sure people who need a timely 999 response get that response.
"We are investigating the circumstance behind these calls to work out the cause of the delay."
In May, EMAS was criticised over the death of John Mallalieu, 89, who had to wait nearly three hours for treatment for a stroke after his case was wrongly prioritised.
Earlier this month the service rejected suggestions from the Labour party its response times were putting lives at risk.