Carson Allen Caesarean death caused by cut to head during surgery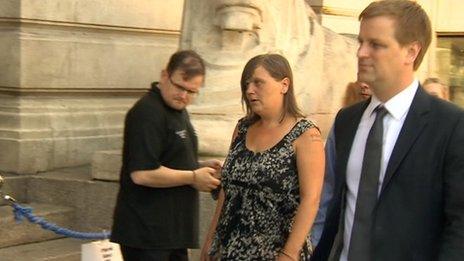 A baby died after suffering a massive bleed caused by a cut to the head during an emergency Caesarean section, a coroner has concluded.
Carson Allen died three hours after being born at the City Hospital, Nottingham, on 3 July 2013.
The coroner found the cause of death was accidental, after the scalpel went into the skull.
The coroner also criticised the hospital trust for its "woefully inadequate" investigation.
Nottingham University Hospitals NHS Trust maintained there were complications that could not have been foreseen.
In her conclusion, assistant Nottinghamshire coroner Heidi Connor said it was no ordinary procedure because the mother, Claire Smith, 38, had undergone a previous gynaecological operation.
That meant the baby was more susceptible to injury in the event of a Caesarean section, the inquest heard.
And because the operation was an emergency, after Miss Smith went into labour at 33 weeks, doctors did not know the full details of the added complications, the hearing was told.
Earlier in the hearing, consultant Dr Andrew Simm said he was supervising a more junior colleague but was watching "like a hawk" and would have intervened if he believed there was a cut to the skull.
He said he did not believe the damage to Carson's head could have been avoided by proceeding more cautiously and that had he carried out the surgery he may have made the same incision.
Paediatric pathologist Dr David O'Neill said there were parts of the head which were so soft it would be possible to penetrate without sensing any pressure.
In a statement released after the verdict, Miss Smith, demanded an apology from the trust.
"From start to finish, my care was absolutely horrendous," she said.
"When I eventually went into labour the doctor didn't seem to believe me but I assured her I was having the baby.
"For Carson's life to end in the way it did is unacceptable. During my C-section, the doctor cut my baby's head so deep that he died. I will never forgive them for what they did."
Following the inquest, Dr Stephen Fowlie, medical director, said: "The pathologist concluded that this extremely rare complication of the Caesarean caused Carson's death.
"It will never be known whether had this not occurred, Carson would have survived."
Related Internet Links
The BBC is not responsible for the content of external sites.