Sherwood Forest Hospitals Trust to remain in special measures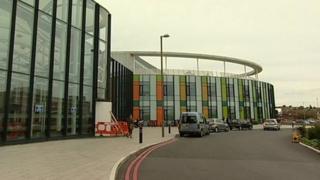 A Nottinghamshire hospital trust will remain in special measures for the rest of the year, the health secretary said.
Sherwood Forest Hospitals Trust was one of 11 placed in special measures across the country last year because of higher than expected death rates.
On Wednesday, some of those trusts were taken out but the Nottinghamshire trust, which runs hospitals in Newark and Sutton-in-Ashfield, was not.
Jeremy Hunt said improvements had been made but more needed to be done.
"The report from the chief inspector is encouraging but there are still some things where progress needs to be made," Mr Hunt said.
The trust came under the spotlight in the Keogh Review of hospitals with the worst mortality rate.
It was criticised for staffing levels and the ratio of trained to untrained nurses as well as poor patient satisfaction.
Mr Hunt said the Care Quality Commission's chief inspector Prof Sir Mike Richards pointed out the trust had recruited 137 nurses and 14 doctors but still had to sort through a backlog of complaints.
He said: "There have been some real improvements, not quite ready to come out of special measures, but [Sir Mike] is very hopeful they will come out before the end of the year."
The trust said it was working hard to exit special measures because it did not help staff recruitment or morale.