Nottingham takeaway Khyber Pass closed after E. coli 'outbreak'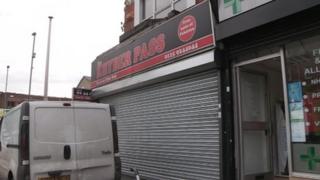 More than 100 people fell ill after an "outbreak" of E. coli at a Nottingham takeaway, prompting an investigation by Public Health England.
The city council shut down The Khyber Pass in Hyson Green last month after reports of 13 people falling ill.
Now it has discovered 135 cases of gastrointestinal problems, 17 of which have been confirmed as E. coli.
The cause of the bug is not known and the restaurant will remain closed until the investigation is complete.
Paul Dales, from Nottingham City Council, said: "While a high number of cases with food poisoning-like symptoms relating to Khyber Pass have been reported to us, we are confident the closure of the premises has contained the outbreak.
"Tests will continue in order to establish the source of the outbreak and until this is clear and suitable measures have been taken, the premises will remain closed."
Dr Vanessa MacGregor, from Public Health England, said most people would recover within three to four days.
"Most people normally carry harmless strains of E. coli in their intestine. Both the harmless strains and the strains that cause diarrhoea are acquired primarily through ingestion of contaminated food or water," she said.
Nobody was available to comment from The Khyber Pass.