Scratch-and-sniff cannabis card 'led to drugs raid'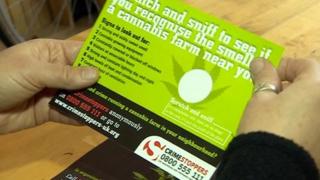 A cannabis farm was found as a result of a campaign using scratch-and-sniff cards smelling of the drug, Nottinghamshire Police have said.
Officers raided a house in Stella Street, Mansfield, where 400 cannabis plants with an estimated street value £250,000 were found.
No arrests were made at what is believed to be a rented property.
The cards have been handed out over the past year so people know what cannabis smells like.
Police said the find followed a tip-off from a member of the public who had been given one of the cards.
The owner of the house has yet to be traced.
The drug-scented scratch cards were first posted to thousands of households across England last year in a bid to detect illegal cannabis farms.
Nottinghamshire Police sent out new cards in June in a bid to find cannabis farms which they said were linked to "serious and organised criminals".