Nottingham bars police levy is approved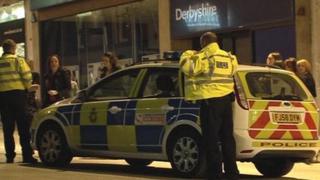 Pubs and bars in Nottingham will have to pay a levy towards policing the city at night.
The city council approved the move after long-standing complaints from police about the £1.5m annual cost of dealing with revellers.
The charge, which would vary from £200 to £4,500 a year, would apply to licensed premises open between midnight and 06:00.
Some bar owners have complained they already pay for policing through taxes.
It is estimated 40,000 people come into the city centre on a Saturday night.
'Everyone suffering'
Insp Paul Gummer of Nottinghamshire Police said: "I spend a lot of my time going round the venues and talking to them, to the door staff and I do have sympathy with them.
"While it is for different reasons, they are in the same (financial) situation as the police and everyone is suffering.
"No-one has got the finances to sort this out themselves so we have to be doing it together."
Chris Bulaitis, who owns a pub and three restaurants in the city centre and Sherwood area, felt the levy was unfair.
"This covers the whole of Nottingham city council," he said.
"That means a small French bistro in Sherwood where I have the ability to trade until 01:00 for Christmas and birthday parties is also going to have to pay money on this tax.
"I think they are not going to raise the money they are expecting because a lot of businesses will simply pull back (their hours) to midnight."
The levy would apply to 260 licensed venues in the city and the charge will depend on the rateable value and how much the business relies on the sale of alcohol for its income.
It is expected to raise about £200,000 a year.
Businesses who already pay into the Business Improvement District (BID) scheme will be exempt.