American Herb Reagan returns to Nottingham after visa row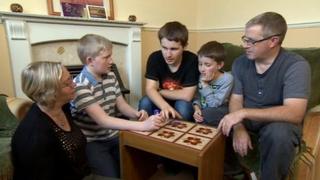 A family forced to live 4,000 miles apart because of a dispute over a visa have had an emotional reunion.
American Herb Reagan was told he was not allowed to return to Nottingham after 10 years in South Africa with his British wife Gill and three children.
A tribunal decided it was a breach of their human rights and on Tuesday he returned home.
The Reagans are now calling for the law to be changed and the visa system to be simplified.
Mr and Mrs Reagan were married in Nottingham in 1993 but have been in South Africa carrying out missionary work for the past 10 years.
When they planned to return Mr Reagan had to reapply for a visa because he had been out of the UK for so long.
He said he did everything the British Consulate requested of him but, when they landed at Heathrow last year, he was refused entry.
In May they finally heard the news they had been waiting for - but it took another two months for the paperwork to be completed.
Mr Reagan said: "I wasn't someone trying to flout the law, I wasn't someone coming for nefarious reasons."
'Complicated laws'
The couple said they initially thought their situation would be resolved in a few days but as the months dragged on they became increasingly desperate.
Mrs Reagan said the rules should be simplified, although they admitted they should have started the visa application process earlier.
"We discovered the immigration laws have become so complicated," she said.
"We were going to be forced into some sort separation no matter what. There didn't seem to be any common sense."
A spokesman for the Home Office said: "All applications are considered on their individual merits, including any compelling and compassionate circumstances, and in line with the immigration rules."