Global fund backs bid to save Lord Byron's crumbling Newstead Abbey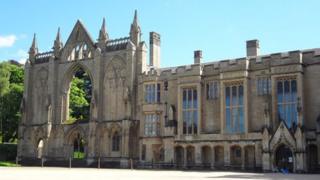 An international fund formed to protect endangered cultural sites across the world is backing a campaign to save the ancestral home of poet Lord Byron.
The Newstead Abbey Partnership is getting £40,000 from the World Monuments Fund for its work to preserve the crumbling abbey near Nottingham.
The 12th Century abbey was given to the Byron family in 1540.
A survey has already started to detail exactly what work needs to be done to protect the listed Grade I monument.
The World Monuments Fund, founded in 1965, has listed more than 600 sites in more than 100 countries.
'Vulnerable' condition
Newstead Abbey, which has been owned by Nottingham City Council since 1931, was placed on its international at risk register in 2012.
Patrick Candler, head of the newly-formed Newstead Abbey Partnership, said his group will use the grant to increase visitor numbers and eventually help restore the site.
"There is a head of steam building up from local people who has a passion for Newstead Abbey and want to do something - we can provide the forum for them to channel their energies," he said.
He said the group was working with Nottingham City Council, but added the local authority "clearly does not have the resources to do all that is needed".
A council spokesman said it operates the abbey on "a break-even basis" spending about £500,000 a year on maintenance and staffing costs and earning revenue from admissions and special events.
Other sites on the fund's UK watchlist include Battersea Power Station in London, the former Cathedral Church of St Michael in Coventry and the Grimsby Ice Factory.