Djanogly City Academy pupils attempt Great Escape from school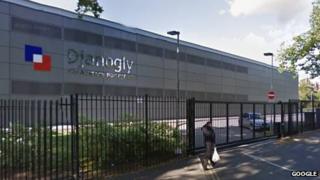 A group of pupils staged an unsuccessful breakout from school by trying to tunnel under a 12ft (3.6m) high security fence with cutlery.
The escape attempt by five pupils came at Nottingham's Djanogly City Academy where the youngsters are not allowed to leave during the day.
The school's Gregory Boulevard site for 11 to 14 year olds is surrounded by a perimeter fence to reduce truancy.
The hole has been filled in and the fence reinforced, the school said.
In an email sent to staff, teachers were warned to be on the lookout after a large quantity of cutlery was found near a hole at the bottom of the fence.
Special measures
The email added that the hole has been filled in and a metal bar placed across the section of the fence to prevent a repeat attempt.
In a statement, interim head teacher Elaine Crookes said: "We can confirm that five pupils tried to leave the school at lunchtime by getting below the fence on the fields at our Gregory Boulevard site.
"We have spoken to the students concerned, and taken action to repair the hole. That part of the fence has also been reinforced."
The school's most recent Ofsted report, in November, placed it in special measures after it was ranked inadequate in all areas.
Inspectors pointed out the pupils' lack of self-discipline, high levels of absence and poor attitudes, while attendance remains below the national average.
During World War Two, 76 prisoners of war escaped from the Nazi prison Stalag Luft III by tunnelling under the fence, although only three made it to ultimate safety.
It was made into the 1963 film The Great Escape starring Steve McQueen, Charles Bronson and Donald Pleasence.