Big busk in tribute to Xylophone Man in Nottingham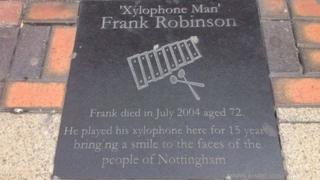 A "big busk" has taken place across Nottingham in honour of Frank Robinson, known as Xylophone Man, who died 10 years ago.
Mr Robinson, who was 72 when he died in 2004, played a toy xylophone outside the H&M clothes store for 16 years.
A plaque was dedicated to the musician at the place where he used to busk, following requests from residents.
BBC Radio Nottingham's Sophie Shardlow, the event's organiser, said Mr Robinson "couldn't fail to make you smile".
'Really charming'
Mrs Shardlow said the BBC Big Busk was an attempt to bring together all street performers, entertainers and musicians in Nottingham, to celebrate the city's busking scene.
She said: "It's a great example of how the city of Nottingham can work together and create a really special moment for all.
"Frank might not have been a great musician but he couldn't fail to make you smile at his performance, he was really charming."
On Saturday, 15 designated busker points and five pianos were set up around the city centre, for anyone to take part.
A grand finale took place in the Old Market Square where crowds gathered to perform a mass busk of Pharrell Williams' Happy.
The event was organised in partnership with Nottingham City Council and Dance4.