Struggling St Edmund Campion school 'making progress'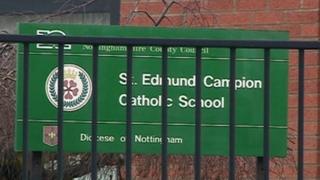 A former "outstanding" Nottinghamshire school which was later rated "inadequate" is now making progress, an Ofsted inspector said.
St Edmund Campion Catholic Primary School in West Bridgford, was judged to have serious weaknesses in February.
The most recent Ofsted report said the new acting head teacher was working "effectively and urgently".
But the report also called for its action plan to make clear who would monitor changes at the school.
The 400-pupil school has agreed to modify the plan and resubmit it, the Ofsted report said.
Father Andrew Cole, a spokesman for the South Nottingham Catholic Academy Trust, which runs the school, said it would continue to work with Ofsted, adding it was "delighted" with "excellent progress which had been made".
Parents' forum
In January, the school's trust removed the previous head teacher and later dissolved the governing body.
An Ofsted inspection in February, rated the school as "inadequate, with serious weaknesses", especially in leadership and management.
Some parents have complained about a "wall of silence" from the trust over the removal of the previous head teacher.
They said only two emails had been sent to them - one to confirm her removal and another to state no more detail could be released.
The new acting head teacher, Moira Dales, has introduced a new system to monitor pupils' progress and an interim committee has been set up to oversee the school.
The school has said that a parents' forum would be established by the end of the summer term.