Dad plans 40m medieval tower to mark birth of first son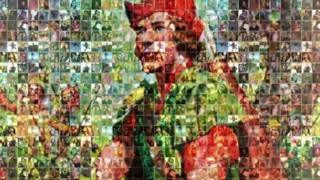 A Nottinghamshire man is putting together plans to build a 40m medieval tower on the edge of Sherwood Forest.
Matthew Illsley came up with the idea to commemorate the birth of his six-week-old son Max.
He hopes the tower, costing £1.1m, will form part of plans to create a new visitor centre at the forest.
Mr Illsley said the project would be "crowd funded", with people buying photo tiles to form a giant Robin Hood mosaic at the site.
"A lot of people plant trees when their kids are born and I toyed with ideas," said the 35-year-old teacher.
'Not intrusive'
"Then I thought, what could be better than creating a snapshot in time of Nottingham people and something for fans of Robin Hood.
"The tower will be prominent, not intrusive, and will enable people to experience a view they have never seen before."
The tower would include two observation decks offering views spanning up to 1,200 sq. miles.
Mr Illsley, from Mansfield, will present his plans to the council in October when the visitor centre will be discussed.
He hopes to start collecting funds from September through the Kickstarter.com website. About 30,000 people would need to sign up for a tile before building could begin.
Derek Higton, from Nottinghamshire County Council said it was "certainly an interesting proposition" and the authority would support Mr Illsley in making contact with the potential contractors for the new centre.