Nottingham tram extension opening to be delayed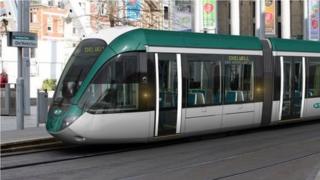 Nottingham's tram extension will be delayed until early 2015, the contractors building the two new lines have admitted.
A spokesman said "rigorous" testing of the lines was needed to ensure the safety of the £570m extension.
Nottingham City Council said it was disappointed the project would not be completed by Christmas.
The authority urged the firm to open sections of the lines to Beeston and Chilwell as soon as possible.
Loss of trade
Project director Paul Harris, spokesman for contractors Taylor Woodrow Alstom, said: "We were planning that this phase of work would be completed during December but we have now briefed the city council that the testing programme is likely to go beyond this point."
The spokesman said the "disruptive" part of the project would be substantially completed by the end of the summer.
Businesses and residents in many areas along the two new routes have complained about loss of trade and disruption during the construction work.
Council spokesman Jane Urquhart said it was disappointing the tram services would not fully open to the public in December.
However, the council was pleased the delay was "only slight", she said.
The extension of the city's tram network will see two new lines running from the city centre - one to Chilwell via the Queen's Medical Centre and Beeston, the other to Clifton via Wilford.