Call for medicals legacy for dead 'white collar' boxer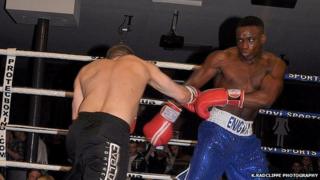 The promoter of a "white collar" boxing match, in which a man fought and later died, wants all fighters to have thorough annual medical checks.
Damian Hucker wants them introduced as a legacy to Lance Ferguson-Prayogg, who died in Nottingham on Sunday.
The coroner's service has said it could take weeks to determine the cause of the boxer's death.
But Mr Hucker said the image of white collar boxing "needs cleaning up" regardless of what caused the death.
"I'm not going to put any shows on ever again now but I'm going to try to help get a standard everybody should adhere to," said Mr Hucker, who ran the promotion firm Dukeries Fightcard.
"It's kind of Lance's legacy on the sport. Even if it turns out that his death was nothing to do with boxing, he has still left his mark."
Mr Ferguson-Prayogg, from Liverpool, lost the fight at The Forum in Nottingham on Saturday but Mr Hucker said "nothing of note" happened during the bout.
"It wasn't a particularly fierce fight or fast-paced fight, it was just routine," he said.
"The referees never had to pull them apart. No-one took a big punch."
'No obvious head injury'
Mr Hucker said the boxer sat down after the fight as normal, then someone noticed his head was "slumped down", so paramedics quickly started helping him.
"His trainer told the paramedics he had a little bit of asthma but it had never been a problem in a fight," said Mr Hucker.
"When they got to the hospital they did an MRI scan and there was no obvious head injury but, from what his trainer told me, his kidneys failed before he had a cardiac arrest."
The death has been referred to Nottinghamshire Coroner's Service.
It stated: "An investigation has been opened and an inquest is likely to be opened at a later date when the cause of death is ascertained.
"A post-mortem examination has taken place but confirmation as to cause of death may take some weeks."
Mr Hucker has spoken to several promoters about enforcing annual medical checks.
"A lot of people have been critical because the amateurs have a medical every three years and it's not happening with white collar," he said.
"Now this has happened it has shaken everyone up.
"If it's going to help prevent something else happening on someone else's event then it's a good thing."