What is white collar boxing?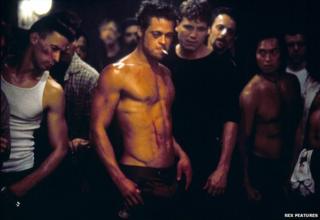 The death of a man following a boxing match at a nightclub in Nottingham has shone a light on the world of so-called white collar boxing. But what is white collar boxing, and is it more dangerous than other forms?
Many people associate this form of boxing with frustrated city boys, or perhaps the 1999 film Fight Club starring Brad Pitt and Edward Norton.
But BBC Sport reporter Matt Slater, who has looked into the world of white collar boxing, says the use of the term has widened in recent years.
"It started in Wall Street in the 90s when city boys there were training in quite famous amateur boxing gyms and basically decided let's have a fight as well," he said.
"That then went to the City, in London, and has now pretty much gone to every financial centre around the world. It's very big in places like Singapore, Shanghai and Hong Kong.
"What it's become though is a nice catch-all phrase for almost everything between professional boxing at the very top, which is run by the British Boxing Board of Control, and is highly regulated, and then amateur boxing at the bottom, which is run by the Amateur Boxing Association of England in our country."
These could include charity fights at black tie events, or perhaps celebrity matches, like the one between Ricky Gervais and Grant Bovey.
"There's a very broad spectrum in the middle that's unregulated and unlicensed, but still legal," said Mr Slater.
"It's just a freer, more laissez-faire space that a lot of people now are choosing to fight in because they find it easier to put on fights, there's less red tape, they don't have to go along to meetings beforehand, they don't have to go along for regular health checks. There's just less red tape."
He said there was quite a lot of reputable white collar boxing that resembles licensed fights.
"There will be a doctor, there will be an ambulance outside, there will be a referee, there will be judges, they will be wearing head guards," he said.
However, some fights can resemble more of a "cowboy ring".
It's these kinds of fights that boxing coach Marcellus Baz is particularly concerned about.
Mr Baz, founder of the Nottingham School of Boxing, said they can be very dangerous because the fighters often have little experience.
"I've know people who've boxed for five or six weeks, and got their friends doing it for five or six weeks, and they just get in the ring," he said.
"If you've been training for five or six weeks you will not physically be in a position to box two three-minute rounds.
"It's a very demanding sport and when your body starts getting tired your hands start dropping, and you are more susceptible to taking more shots.
"If your technique isn't right up there to be able to block shots you are going in there without a defence.
"So you are potentially going in there without being able to protect yourself."
Mr Baz has heard about these kinds of fights for 20 or 30 years, but believes they are becoming more popular.
He believes they need to be more tightly controlled, particularly following the death of Lance Ferguson-Prayogg.
"We need to have it under some sort of regulation or governing body, or incidents like this will continue to happen," he said.
"It's just people who want to take an easier path to go in the ring and don't have too much regulations about fights and technique, and just want to get in there and have a go.
"It's been going on for ages but it has been getting worse. It's shocking that it does happen."
Aaron Needham, a 29-year-old council worker from Nottingham, fought his first white collar match in April, in front of 1,200 people in his home city.
"It was people who had been training for eight weeks so the competence level, the skill level, was quite low, but that was against other people who couldn't fight as well as somebody who was semi-professional," he said.
He said he was given plenty of warning about the dangers before stepping into the ring.
"As soon as you look like you are in danger they would stop the fight, which I've seen happen before," he said.
He has since fought in Derby, and has another match planned for the end of August.
Mr Needham said the death of Lance Ferguson-Prayogg was "a tragedy" but it would not deter him.
"The guy on Saturday was a semi-professional, which basically means if you've failed a medical you can fight on an unlicensed show," he said.
"I don't know if there was any underlying medical reasons for what happened. I just heard he collapsed in the ring.
"It doesn't happen that often in boxing any more, these sort of deaths."
Jon Leonard, company director of Ultra White Collar Boxing, said he has put on fights for five years without any serious medical problems.
He was not connected with the match in Nottingham on Saturday, and said his events stay true to the white collar boxing "legend" of two beginners fighting each other safely - rather than being just an excuse for an unregulated match.
"The tradition is that some guys in America, a solicitor and a doctor, went down to a boxing gym in New York, asked to be trained up and have a boxing match," he said.
"Then it was bankers versus bankers, and it has gradually progressed from then on."
Boxers are given professional training for eight weeks, during which they are assessed, then matched with appropriate fighters from the group, to ensure a fair fight.
They receive medicals before and after fighting, and there are doctors, paramedics and ambulances like in professional boxing.
He said the events raise thousands of pounds for charity.
"For a lot of people it's like a dream. Everyone watches boxing on TV. We want people to have an enjoyable experience," he said.
"It's like anything in the world - you have good ones and you have bad ones."