Tributes to 'white collar' boxer Lance Ferguson-Prayogg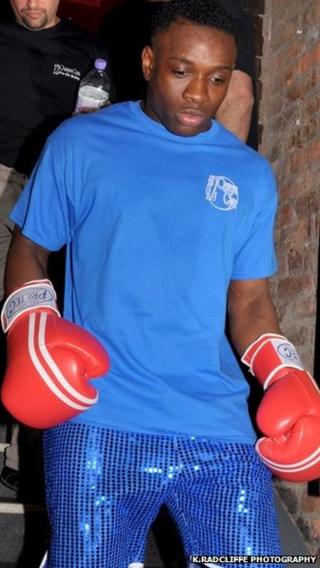 Tributes have been paid to a man who died following a "white collar" boxing match at a nightclub in Nottingham.
Lance Ferguson-Prayogg, from Liverpool, died in hospital after paramedics were called to the Forum club on Saturday afternoon.
The gym, in Wallasey, Wirral, in which Mr Ferguson-Prayogg trained, tweeted: "R.I.P. to one of our finest boxers... we are all totally devastated."
Staff at the Forum said they were saddened by the news.
Shaun White, from Sheffield, was Mr Ferguson-Prayogg's opponent on Saturday.
Mr White told reporters that following the fight Mr Ferguson-Prayogg left the ring and then collapsed.
A spokeswoman from East Midlands Ambulance Service said it received a call at about 17:24 BST on Saturday, reporting "a male who had lost consciousness".
However, it is unclear how Mr Ferguson-Prayogg died.
Lance Ferguson-Prayogg trained at 12 Quays Gym in Wallasey and the event was organised by a promoter called Dukeries Fightcard.
The show was abandoned after Mr Ferguson-Prayogg collapsed.
Damian Hucker from Dukeries Fightcard told the Nottingham Post: "I am truly devastated by his death and will never be involved in boxing again.
"I was already planning on leaving the boxing scene as I'm about to start training as a paramedic but this has confirmed that for me now."
'Needs more safety'
Mr Ferguson-Prayogg's trainer Micky Allen, who confirmed the boxer had a partner and daughter, said he was grateful for the support he has had from well-wishers on Facebook.
He said: "I just want to thank every single person... Letting you all know that I'm ok, just worried more on Lance's family, partner and child.
"I keep thinking of all the fights we attended and was successful [in]. Skitting at each other and the 12 quays gang."
Marcellus Baz, from the Nottingham School of Boxing, described the bout Ferguson-Prayogg took part in as "white collar boxing".
He said: "It's not a governed sport... it's got to be governed, it's got to have more safety.
"England boxing is governed, it's monitored, the safety is right up there where young people are checked before [and after] they go into the ring."
Nottinghamshire Police, the Health and Safety Executive and Nottingham City Council all said they are not investigating the death.
The council said in a statement: "The premises were licensed for boxing and wrestling and it is now a matter for the coroner."
Matt Slater, from BBC Sport Online, said white collar boxing covered a broad spectrum of boxing.
He said: "[White collar boxing] used to be quite a specific thing, but it has become a very generic catch-all phrase for something much larger.
"It's become everything between professional boxing at the very top and amateur boxing at the bottom, there's a huge space in the middle that's been around for ever and ever."
Kirsty Radcliffe, a photographer who had met Mr Ferguson-Prayogg during events, said: "He was a very well liked man, a very talented boxer, a gent."
A statement issued on behalf of staff at the Forum said they were saddened by the news and their condolences were with Mr Ferguson-Prayogg's family.