NHS Trust sorry after 94-year-old left on Farndon pavement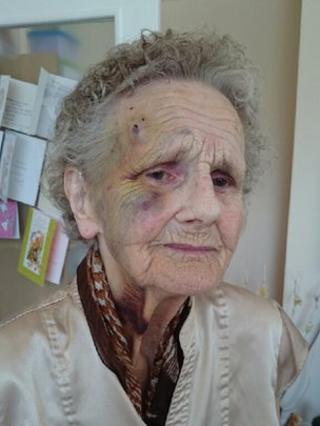 An NHS Trust has apologised after a 94-year-old woman was left waiting three and a half hours for an ambulance after falling from her mobility scooter.
Janet Rogers, from Farndon, fell on the morning of 13 June and had to wait on the pavement for medical care.
Mrs Rogers did not suffer serious injuries but her family have said they were upset she had to wait so long.
East Midlands Ambulance Service (EMAS) NHS Trust has said it was sorry and will investigate what happened.
'Vulnerable patients'
Mrs Rogers, who was seen by a paramedic an hour before an ambulance appeared, said: "It was dreadful... it seemed ages, people were helping me, propping my head up, it wasn't very nice at all."
Her daughter Jane Rogers said: "I was quite horrified about the fact they'd left a 94-year-old great-grandmother to lie virtually in the gutter for that length of time."
She added that she was told her mother had not been a priority case and was not allowed to drink water, despite it being a warm day.
Sue Noyes, chief executive of EMAS, said: "We have apologised to Mrs Rogers and her family because we want to get this right.
"I can understand how the family feel about our service on that day... We have a duty to our vulnerable patients."
Ms Noyes added that the matter would be thoroughly investigated and she would have expected Mrs Rogers to have been seen within an hour.
She added that advice about not drinking water was probably in case Mrs Rogers had needed an operation. Ms Noyes said this would also be investigated.