John McGrath case: Police 'too busy' to arrest grandson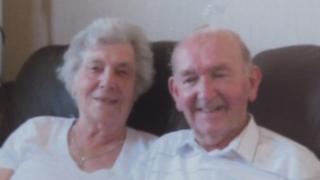 Police were "too busy" to arrest a mentally ill man who later went on to kill his grandfather, an inquest heard.
William Barnard, who was diagnosed with paranoid schizophrenia, stabbed his grandfather John McGrath in 2009.
An inquest into his death has been told Barnard was due to be arrested for an attempted armed robbery, but officers were "too busy" with another case.
Coroner Heidi Connor previously said she wanted to determine if Barnard should have been detained earlier.
'Lack of staff'
The hearing at Nottingham Town Hall heard Barnard was the prime suspect for an attempted street robbery which involved a machete or knife.
It happened in May 2009, two months before Barnard went on to kill 81-year-old Mr McGrath.
Det Con Lee Kirk admitted the case could have been handled differently and said police failed to make the arrest because they were dealing with a drugs case.
He said Barnard's case should have been treated as a high priority.
Ms Connor asked Det Con Kirk: "What went wrong?"
He replied: "That's something I have asked myself several times.
"There was a lack of staff, I lost sight of the fact of what I was dealing with because of other work."
Mr McGrath suffered 56 wounds when he was attacked at his home in Stapleford, near Nottingham.
His wife Mabel, now 88, was also injured as she tried to protect him.
The inquest previously heard Mr McGrath had fought tirelessly to get the right help for his grandson.
Barnard admitted manslaughter on the grounds of diminished responsibility in 2010 and is now detained indefinitely in Rampton high security hospital.
Det Con Kirk said since Mr McGrath's death ongoing cases were given closer scrutiny and regularly reviewed by senior officers.
The inquest continues.