Mansfield murders: Christopher and Susan Edwards spun web of lies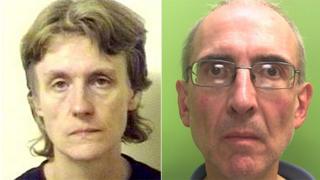 Susan and Christopher Edwards murdered her parents, buried their bodies in the garden and then spent 15 years looting their bank accounts to spend on Hollywood memorabilia. How did no-one notice what they were doing?
Patricia and William Wycherley were shot dead at their home in Mansfield, Nottinghamshire, on the May Day Bank Holiday weekend in 1998.
The next working day, Susan, 56, cleared £40,000 from their account.
What then ensued was a web of lies via letters to friends and family and forged signatures on official documents, to keep up the pretence the couple were still alive.
Christmas cards were sent to relatives year after year, sometimes "signed" by the dead couple, sometimes written on their behalf by Susan.
"I should explain that - with my father getting elderly and my mother not always in the best of health - they had been travelling around Ireland because of the good air on and off for some years," she wrote in December 2007.
Neighbours said the Wycherleys had "kept themselves to themselves", described them as "eccentric" - some thought they were brother and sister, rather than husband and wife.
A Post Office counter worker, who lived on the same street, told police a man came in to pay a telephone bill for the Wycherleys' address in 2004. He told her the couple were in Morecambe. Others were told they were in Blackpool.
The Edwardses travelled from their home in Dagenham, East London, at least every three weeks to check on the house in Blenheim Close, Forest Town. Neighbours reported seeing them cutting the grass.
They cancelled hospital appointments and sent letters to the Department for Work and Pensions to ensure they continued to receive the Wycherleys' pensions.
By chance in 2005, a driver veered off the road and crashed a car through the garden fence. Fearing the bodies may be discovered, the Edwardses quickly sold the property, again forging the Wycherleys' signatures.
Det Ch Insp Rob Griffin, of the East Midlands major crime unit said: "They planned what they were going to do.
"The Wycherleys didn't have many close friends, weren't particularly close to their families. The Edwardses were prepared to go to great and extravagant lengths to keep up the pretence they were alive."
Around September 2012, the DWP wrote to Mr Wycherley requesting a face-to-face interview as he was approaching his 100th birthday.
The Edwardses, who had been receiving their post, panicked, according to the police, and fled to France.
But, despite siphoning off a total of £245,000 of the Wycherleys' money, just over a year later they had just one Euro between them, having spent thousands on Hollywood souvenirs, particularly autographs of movie star Gary Cooper.
Det Ch Insp Griffin described them as an "unusual couple", who had few friends.
"They didn't lead a particularly lavish lifestyle. It would seem that the vast majority of their money was spent on memorabilia, on authenticated autographed items on people that they admired.
"Its staggering to think that's what they spent their money on, but that's what they did."
Susan's defence barrister David Howker described their "hideous expenditure" on Gary Cooper items. Former accountant Christopher "indulged her fascination for celebrities and autographs" by buying her the items as gifts, he said. He had racked up a debt of £14,000 on one credit card.
The court heard that a series of letters that Christopher, 57, believed the couple had been receiving from actor Gerard Depardieu, had actually been written by Susan.
Money, it seems, may have been the motive behind the murders - the jury was told that an inheritance left to Susan by her step-grandmother had been invested in the Wycherleys' previous home in London. Police said it was money she thought she was owed.
While in France, Christopher contacted his stepmother to ask for money and told her the story the couple gave in court - that Mrs Wycherley had shot her husband, Mrs Edwards shot her mother after being provoked and they had buried the bodies a week later.
His stepmother called the police, who tried to contact the Edwardses but failed. It was a month later when the force received an email that they were giving themselves up.
"We are going to surrender ourselves to the UK Border Force authorities at the Eurostar terminal at Lille Europe station. We would prefer to do this… Since my wife is already sufficiently frightened," wrote Christopher.
Police found the Wycherley's remains in the garden in October last year, later confirming one body had a bullet lodged in the spine.
A jury at Nottingham Crown Court found the pair guilty of murder just over 16 years after they committed their crime. Police believe Christopher shot both his in-laws with a World War Two .38 commando revolver, as he had experience of using guns.
Neighbours had seen him "up to his waist" digging in the garden that day in 1998. He later admitted in court he had been digging a grave but had hit a cable while digging the first hole, so moved further down the garden and dug a second.
They awoke in the early hours to carry the bodies, wrapped in a duvet, down from the upstairs bedroom where they had been killed, to the garden.
Det Ch Insp Griffin said: "This is a couple that appear to have planned for some years to exact revenge for the taking of inheritance that had been due to Susan from her step-grandmother."
"They had spent a number of years planning how they might get some of that money back and they decided on a course of action. They said: 'We will travel to Mansfield, we will kill this couple, who we know will not be missed, and take all of their money'.
"I would describe that as pretty cold and calculating."