Victims of plane crash near M1 named by police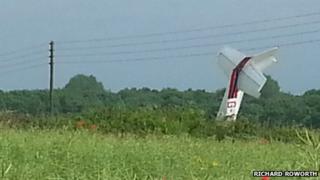 Two men who died when their plane crashed into a Nottinghamshire field near the M1 have been named.
Police have identified the men as John Gill, 70, of Belper, Derbyshire and Alan Eaves, 76, from Selston, Nottinghamshire.
The pair were killed as their light aircraft crashed near junction 26 of the motorway at 13:30 BST on Saturday.
Both were experienced pilots, flying recognised circuits, and were members of the local Merlin Flying Club.
A post mortem examination, which took place on Tuesday ruled out any possibility of a medical condition contributing to the crash.
Following the crash eyewitnesses described seeing the light aircraft "in trouble" moments before.
They and other pilots later praised the pilot of the aircraft for steering away from the motorway and avoiding a much larger accident.
The Air Accident Investigation Branch continues to investigate the cause of the crash.