Nottingham taxi strike causes tram disruption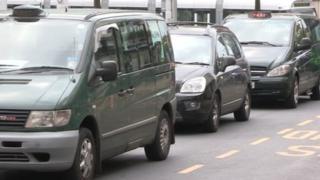 A "go slow" protest by Nottingham Hackney cab drivers disrupted tram services in the city.
The strike action, held between 08:00 and 10:00 BST, near Station Street, was part of an ongoing dispute that private hire taxis are taking their work by illegally picking up customers.
Nottingham City Council said it was in talks with the cab drivers but did not believe there was a problem.
Nottingham Express Transit (NET) said a normal tram service was later resumed.
Further strike action has been planned for Wednesday.
Hackney-carriage drivers can be hailed and pick-up customers from the street without pre-booking, while private hire taxis need to be booked in advance.
'Lives at risk'
Jamil Ahmed, chair of protest organisers Nottingham Licensed Taxi Owners and Drivers Association, said private hire taxis breaking the law was a safety issue.
"We want people to realise that this is a major issue and thousands of people are at risk when they're using the taxis, because they're not insured if there was an accident," he said.
"We've been fighting for this for over eight years, we've raised this at every level and spoken to executive councillors, but we need a change in strategy so there is law and order within the city centre."
In a statement, Nottingham City Council said: "We don't believe illegal plying-for-hire by private taxis is under way in Nottingham on anything like the scale suggested.
"[Taxi drivers] are failing to recognise that, whereas previously private taxis were generally booked from home before people went out for the night, customers now have the option to book private taxis from wherever they are in the city."
Jo Bentley, from NET, said extra members of staff were available to help the public and announcements were made to keep people informed about what was happening.