Barton in Fabis villagers voice concern over possible quarry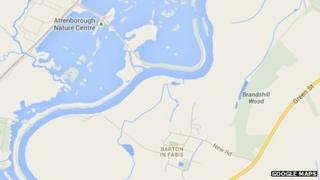 Residents in a Nottinghamshire village are upset after nearby land was included in a list of potential gravel quarry sites.
The land near Barton-in-Fabis is included in a minerals plan, but has not yet been approved for quarrying.
Village resident Roy Haines-Young said the land was a crucial green belt area on the edge of Nottingham.
A planning spokesman said the council was "legally obliged" to highlight areas for potential gravel extraction.
'Green lung'
A Nottinghamshire County Council consultation on the mineral plans is currently under way and will run until July.
The Trent Valley is a major source of sand and gravel, and Nottinghamshire is the biggest producer of sand and gravel in the East Midlands, according to the council website.
Mr Haines-Young said the land was used by people for walking and fishing.
"The village is concerned - this is a wonderful green lung and a green resource," he said.
"It is of strategic importance and the city and county should wake up and not let people trash it."
County council planning spokesman Sally Gill said: "We have to go to the public if a request is made for mineral extraction and it is important that local residents, parish council and wildlife groups all write to us and tell us their thoughts and views.
"We have permitted reserves for about 19 million tonnes and we need to find another 29 million tonnes... to supply the demand for construction, road building and housing projects in the future."