Hate crime research set to begin in Nottingham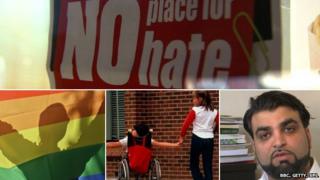 An independent inquiry is to be held into hate crime in Nottingham.
Nottingham Citizens group said many hate crimes go unreported and official figures are "just the tip of the iceberg".
Sajid Mohammed, who is from the community action group, said: "There is an unacceptably high level of hate crime in our midst."
Both Nottingham universities are involved in the research, which aims to collect data and personal experiences.
Mr Mohammed described Nottingham as a "wonderful and diverse city" but said not enough people were reporting hate crimes when they did happen.
He said many victims were reluctant to report abuse.
'Fear of hate crime'
Nottinghamshire Police currently receives about 700 reports of hate crime each year, although the force acknowledged that many cases went unreported.
A recent survey of Nottingham's taxi drivers recorded similar numbers of offences occuring in just one week.
However, a scheme backed by Police and Crime Commissioner Paddy Tipping will see the introduction of cameras in taxi cabs.
Mr Mohammed added: "We know people go though numerous incidents before they have the courage to report it.
"The message we want to put out from this is that people should not live in fear of hate crime."
More than 1,000 questionnaires will be sent out as part of the research, which aims to assess how widespread the problem is and make recommendations on how to tackle it.
Nottinghamshire Police is aiming to reduce the number of repeat victims of domestic violence, hate crime and anti-social behaviour by 5% compared with last year.