Green's Mill in Sneinton needs £40,000 sail repairs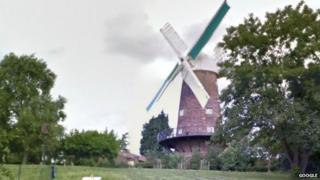 A 207-year-old Nottingham windmill is in need of more than £40,000 to restore the landmark to its former glory.
The sails on Green's Mill, in Sneinton, last replaced in 1986, have been stopped from rotating because they have rotted due to the weather.
Nottingham City Council has agreed to cover the majority of the cost, but the charity that runs the mill would need to contribute £8,000 towards the work.
The charity, Friends of Green's Mill, said fundraising was under way.
'Experience diminished'
Jaime Duff, from the charity, said they decided to stop the sails turning two months ago after a study found the 28-year-old sails had been damaged by the weather.
"Hopefully the sails might be up by October, but it will depend on funding and timings," he said.
"It's Nottingham's only working mill, but at the moment it's not, so we feel the visitor experience is currently being diminished."
John Bellingham, an apprentice miller, said children from a school trip were keen to watch the sails rotate.
"There's something on every floor that turns with the sails... so other things are being affected because the sails aren't moving," he said.
"An average sail will cost about £15,000 each, so it's not a cheap building to restore and fix."