Shortwood Farm opencast mine development can continue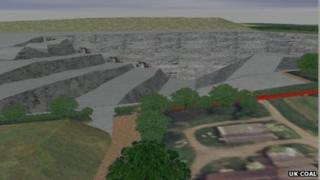 The development of an opencast mine in Nottinghamshire can now go ahead after a government minister decided the application needed no further action.
Plans for UK Coal's surface mine at Shortwood Farm were first approved by the county council in 2013 pending the completion of some legal matters.
Local Government Secretary Mr Pickles said he was now satisfied correct planning procedures had been followed.
Campaigners said they were "absolutely devastated" by the news.
'Very expensive'
Nottinghamshire County Council said it would now continue to work on the development.
Despite opposition, the council supported UK Coal's plan to extract an estimated 1.28 million tonnes of coal and 250,000 tonnes of fireclay from the mine.
The decision was subject to matters being added to a legal agreement, including support for local projects and road improvements, all to be funded by UK Coal.
The Secretary of State decided not to "call in" the application and said he was content the council should determine the application.
The permission allows mining to take place for a period of less than five years.
Ken Rigby, a local councillor who campaigned against the mine, said: "[We are] absolutely devastated.
"There's a very slight possibility of getting a judicial review but that is very difficult because you have to prove the legal process has not been completed to the letter of the law, it's also very expensive."
As part of the application, UK Coal agreed to control noise and dust and to restore the site to farmland after extraction.
The coal produced will be used to generate power for nearby homes and businesses at Ratcliffe-on-Soar power station, which currently imports most of its coal supplies from abroad.